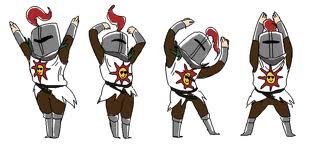 Knights at Service
Can't move on in the next area because you are having a hard time defeating the mobs and their boss? Being scared of what might surprise you in the next level? Or you just want to be with someone in your victory? Well, the Knights would be there for you!
This is an expansion of the
https://soulswiki.forumotion.com/t7263-the-noble-knights
for coop. We would like to extend our service for you and don't hesitate to ask us for aid. The list is classified into PS3/XBOX systems which contains the knights' forum name, PSN/GT, characters' soul levels, and their time zone respectively.
Note: If there is no psn/gt included, it means that the forum name is the same as their system's name.
Choose the
knight or knights
you want to be with and post
here
.(You can check the Noble Knights thread if you want to see the rankings)
Anyone
are welcome to help one another now!
If you want to be in the list even you are not a
Noble Knight
, you must post your forum name,psn/gt,characters' soul levels and your time zone respectively.
Last edited by whitechikz11 on Fri Aug 24, 2012 10:45 pm; edited 4 times in total