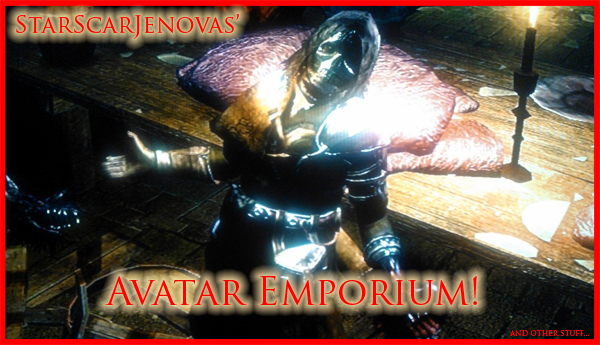 We Make Avatars!
Hello, everyone!
I brought up opening an avatar shop in a thread yesterday and a few showed interest! So here we go! My avatars are simple, a nice colored border with your name. The beauty, I like to think, comes from the photography. The shot will make this avatar, friends! If you want something really intricate this shop may not be for you! Also, I may move the shop into making sigs too!
All the shots will be taken by me and my top-heavy MALE character. If you would like a female with very specific items it will take some extra time so that I may get the toon ready.
I'm going to try to average two a day. If you post your request it will be added to the queue in that order. Please be specific in your requests.
Ex:

Name:
Set: (include full armor and weapons)
Location:
Pose:

Working in conjunction with,
TehInfamousAmos
!
Check his shop here:
https://soulswiki.forumotion.com/t8933-picture-request-thread
Please feel free to request there as well!
Please keep in mind that the poses are in-game so I won't be able to do something like your toon high-fiving a pisaca!
I just noticed that the other sig request thread has died out! I'll be happy to take requests for sigs as well. I can totally bone up on my photoshop!
Examples of Avatars:
Spoiler:
Spoiler:
Spoiler:
Spoiler:
Spoiler:
Spoiler:
Spoiler:
Already in the queue: completed are in Red
WyrmHero
Dubscythe
DxV04
SeenBlack
Leeroy_Jenkins
PaPaSmVrf
Mrkekz
Specter737
misery013
Robsthedon
Pesth
xSkulled
IceIfrit666
SunlightCrusader
Arotorias The Abyss Walker
Lickingodliness
WyrmHero:
DxV04:
Dubscythe:
Leeroy_Jenkins:
PaPaSmVrf:
mrkekz:
Pesth:
Sig queue: completed are in Red
PaPaSmVrf
Pesth
Specter737
Slarg232
Pesth:
Slarg232:
Thanks alot, guys!
P.S. Install instructions: Simply look at the url from the image and upload via URL in the avatar upload screen. Otherwise save the image then upload from your device.
Last edited by StarScarJenova on Mon Sep 24, 2012 7:18 pm; edited 39 times in total