The Official Dark Souls Tournament of Fun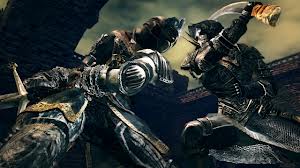 This event will be about bragging rights, but i'm going to say that it's about fun and hanging out with fellow forum members.
Please Note: If you are a tryhard player, or rely on tryhard tactics, the following rules will cause you to post a hateful comment, and you will receive negative rep, and lose respect. Thank you for your cooperation.
There will be a chatango for this, and a bracket for this.
Now for the part you've all been waiting for...
The Un-Fun Rules
- Don't be scared by the long list. Only 1 - 3 of these should matter to you.
- No Hornet Ring
- No TWoP
- No Glitches, hacks, or exploits, or anything of the sort.
- No Buffs, Resins are acceptable.
- No DWGR, this isn't gymnastics class. (We might have a vote on this, but honestly I think 95% of the forum can agree that it's annoying to fight. The other 5% use it, or are Tarkus)
- Pursuers will be allowed unless lag turns it into a problem.
- No Chain Backstabbing
- Please stay away from roll backstabbing everything... We are trying to encourage fun here.
- I have to include this sadly, If anyone complains about something someone did at a place or something blah blah then you will be disqualified, everything that I consider to be tryhard is tryhard because I know everything now shut up.
- No spamming magic, it's annoying.
- No complaining about the rules.
- No healing items. (You can use miracles)
- For the sake of our souls, please do not bring Tarkus to the party. We all know it's chuck norris under that armor.
- Do not take the rule about Tarkus seriously.
-
- If you cannot possibly imagine ever creating an effective build with these restrictions. You are a tryhard, and bad.
- You must post your build before being enlisted, I need to rate it's funness, you need at least a 5/10 to be able to enter.
- I have ways of telling whether or not you are over-leveled. If you are caught using a build that is not SL 125, you will be disqualified, unless I am notified before-hand and you have a good reason.
Location, Information, And other things you will most likely end up asking me in the thread because you are lazy
- This tourney will take place in... The Blight Town Pit!!! (Majority can change this)
- I will host, and spectate, every fight.
- Break a rule and I will hornet stab you with a Black Knight Great Sword.
- Survive and you will be stabbed again.
- SL 125
- The Winner of This Tournament proves his skill, and can never again be questioned unless he is beaten in future versions of this, if it is ever created.
- The Fights will be simple enough, whoever you are paired with in the brackets, will fight you Via red sign soapstone (I will always be hosting these matches). The matches are 2 out of 3 and are double elimination. If you break a rule, you get hornet stabbed, The winner of the losers bracket and the winner of the winners bracket fight in the grand championship, the loser bracket champ needs to beat the winner bracket champ in two separate rounds in order to win, whereas the winner champ will only need to win one round.
Links to brackets and Chatango
http://challonge.com/Wilkinson3424isgudyouarenot
http://challonge.com/XboxCasulsTournament (Obviously Xbox 360 version)
http://darksoulswilkschat.chatango.com/
Time
August 31 - September 1 (Or whenver we get done)
Combatants of Fun and Rainbows
Format to Submit:
Build(s) : (Insert builds here)
PSN : (Insert PSN/XBL name)
Key (Key = Guide, aka how to read this. You don't post "key" when submitting... lol): Forum_Name (PSN_Username/XBL Username)
PS3 Contestants
- Wilkinson3424 (Darkwraith_Wilks) (Not really in this, but i'm watching every fight and setting up each match)
- jaythibodeau (jaythibodeau)
- Valanor (Happy_Pain70)
- Serious_Much (HolyPK9)
- Sentiel (Sentiel)
- reim0027 (reim0027_2)
- Sneezer (Sneezer27)
- TooLeet (TooLeet)
Casul Xbox Players
- Wilkinson3424 (Wilkinson3424)
- SirArchmage (Sir Archmage)
- hey it's andres
- Sad Panda
Last edited by Wilkinson3424 on Tue Sep 03, 2013 8:48 pm; edited 11 times in total