The Heist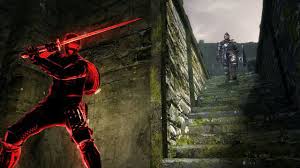 Hosted by the Sunlight Coalition!
Welcome to The Heist!
This Event will be based around the idea that a host (The Thief) will have to sneak around red phantom guards and try and find a secret treasure hidden within a level! The host will have poor weapons and armour, And will be forced to try and sneak past the red phantom guards, the object of the Host is to summon two red phantoms and be invaded by a red, Let them set up their treasure and guarding, when the match begins the theif will steal the items within the Prism stone circle, and bring it all the way back to the beginning of the level where he summoned them, he will message the Invader (Guard Squad Leader) or announce in Chatango that he successfully completed the mission, The Guards will then come retrieve the items and they will restart until the thief is killed.  The Objective of the red phantoms are to make sure that these treasures are guarded, and will patrol a certain area and kill any intruders!
Rules for the Thieves!
Even Thieves must follow a set of rules!
The Thief must be SL 90 And Must be able to host.
You will be given options to create a silent sneaky build, with limited choices for gear, weapons, spells, rings, etc.
Here is what you are allowed to have on your person.
Thief Arsenal:

Gears: Shadow Set, Thief Set, Hollow Thief Set, Painted Guardian Set, Xanthous set (For all you pros).

Weapons: Any Dagger +5 (Non-elemental). Priscilla's dagger to +3, Ghost Blade, Dark Silver Tracer to +3. You can use a catalyst, And an un-upgraded bow.

Shields: Any SMALL shield. Meaning Target shield, Leather shield etc.
Rings 
 Here is a full list of rings you may use. 
Cloranthy, Lingering Dragoncrest, Slumbering Dragoncrest ,Wolf Ring, Dark Wood Grain Ring, Ring of Fog, rusty ring.
Spells
 Here is a full list of spells you may use.
Hush, Cast Light, Remedy, Hidden Body, Chameleon, Hidden Weapon, Fall Control, Magic Shield (Not Great Magic Shield), Aural Decoy (Just because), Force, Tranquil walk of peace (FOR ESCAPES ONLY!), Heal, Karmic Justice (Stun lock escapes, yes it works.), Acid Surge, Poison Mist.
The only rule they have is they cannot use TWoP to help them fight, it is an escape miracle.
And also stick to the gear restrictions.
Rules for the Guards!
The Guards will not be as restricted, but they do have some rules!
The Guard must be SL 100!
As for gear, and weapons. Your only restrictions are that you must medium roll or fat roll, and you cannot use the hornet ring. And no using TWoP!
Everything else is up to you! Of course you have some rules that are pretty simple.
1. No Ganking, That means no 2-3 people sitting in one area waiting to trap the invader. You must all have posts, and it is encouraged that you move around and patrol.
2. Stay away from spell spamming and chain backstabbing.
3. The Host will place two prism stone circles, one at the drop point, where you will be summoned/invade, And the other will be placed by the guards, and put 3 items in that circle for the thief to steal.
4. Randoms can be taken care of however you like.
5. You must be medium rolling or fat rolling. To give the thief a chance to escape. In real stealth missions, the thief will most likely be more agile then the heavily armed guards.
6. Only one guard can camp at the treasure at a time. The invader will need to find a way to get passed you without dieing, whether it be with TWoP or Backstabbing and quickly grabbing the items while you are down.
7. A max of THREE items may be put in the treasure circle.
8. Guards may not use Twop.
9. Guards must be SL 100!!!! Not 101, not 99, 100![/b]
10. All locked doors in a host's world must be unlocked, they don't have to be opened.
Location and Time!
Sen's fortress is where we will have the event, this time.
The event will take place all day on August 3rd
Last edited by Wilkinson3424 on Fri Aug 02, 2013 9:14 pm; edited 9 times in total